Col. James Wood II Chapter Mark the Grave of Maj. Peter Helpenstein
On 12 November 2022, the Colonel James Wood II Chapter of the Virginia Society Sons of the American Revolution conducted a grave marking ceremony to honor Revolutionary War Patriot Major Peter Philip Helphenstine.  The ceremony was held at Mount Hebron Cemetery, Winchester, Virginia.   Helphenstine was in the American Revolution with the 8th Virginia Regiment, known as the German Regiment, commanded by Colonel Peter Muhlenberg.  He was injured in battle in South Carolina in April 1778 and returned home to Frederick County, Virginia.  The Virginia SAR combined color Guard presented colors and fired a musket volley to honor the patriot.  Compatriots from the Colonel James Wood II, Culpeper Minutemen, Fairfax Resolves, Fort Harrison, George Mason and Sgt Maj John Champe Chapters along with the Lanes Mill DAR Chapter and the Order of Founders and Patriots of America paid homage to Helphenstine.  Descendants of the patriot participated with Ed Helphinstine, Jr and his daughter Sarah unveiling the marker.  Ed Helphinstine, Sr and his daughter Leah presented a wreath. 
The color guard was commanded by Brett Osborn (CJWII) with the following compatriots participating in the presentation of the colors:  Sean Carrigan, Paul Christensen, Chip Daniel, Kelly Ford, Doug Hall, Dennis Parmerter, Allan Phillips, Will Reynolds, Marc Robinson and Richard Tyler from Colonel James Wood II Chapter; Ken Bonner, Barry Schwoerer and Steve Van Deusen from Sgt Maj John Champe Chapter; Dave Cook and Jim Cordes from Fairfax Resolves Chapter, Ken Morris from George Mason Chapter; Mark Crain from Culpeper Minutemen and Bryan Buck from Fort Harrison Chapter.
First photo is the Virginia State Color Guard at Present Arms l. to r. Brett Osborn, Barry Schwoerer, Allan Phillips, Richard Tyler, Dennis Parmerter, Bryan Buck and Dave Cook.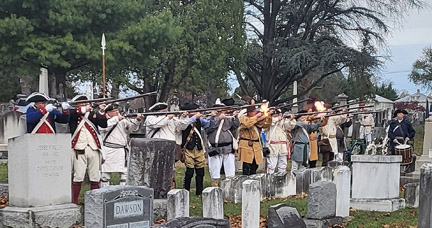 Second photo is the Musket Squad firing a salute l. to r. Dennis Parmerter, Paul Christensen, Thomas "Chip" Daniel, Marc Robinson, Barry Schwoerer, Kelly Ford, Dave Cook, Allan Phillips, Sean Carrigan, Ken Bonner, Will Reynolds and Jim Cordes.
Third photo are members of CJWII Chapter standing l. to r. Will Reynolds, Peter Himmelberger, Kelly Ford, Jim Simmons, Paul Christensen, Charles Jameson, Marc Robinson, Bryan Buck, Allan Phillips, Richard Tyler, Dennis Parmerter, Thomas "Chip" Daniel, Jim Cordes, Ken Bonner, Dave Cook, Barry Schwoerer, Doug Hall.  Kneeling l. to r. Dale Corey, Sean Carrigan.  (Photos courtesy of Anita Bonner.)
Share this post: