SAR COMMEMORATES PETER MUHLENBERG IN WOODSTOCK
On 21 January 2023, the Colonel James Wood II Chapter of the Virginia Society Sons of the American Revolution conducted a commemoration for Peter Muhlenberg's final sermon in Woodstock, as he was recruiting the 8th Virginia Regiment for the Revolutionary War.  Serving a congregation in Woodstock, Virginia, Peter became a follower of Patrick Henry.  This led him to election to the House of Burgess and he became Chair of the Committees of Safety and Correspondence for Dunmore County.  In 1776 he served as a delegate to the Virginia Convention where he was asked by George Washington to return to the Shenandoah Valley to raise and command the 8th Virginia Regiment.  In his final sermon, he read from the bible, "There is a time to preach and a time to pray, but there is also a time to fight, and that time has now come." Muhlenberg removed his robes to reveal the uniform of a militia colonel.  During the war, he saw combat at Sullivan's Island, Brandywine, Germantown, Monmouth and Yorktown.  An unsung hero of the Revolutionary War, he was one of a legion of firm, steady commanders who were indispensable in winning the fight for American independence.  After the war, he went into politics in his home state of Pennsylvania, serving on the Pennsylvania Supreme Executive Council and in the U.S. Congress.    He was appointed supervisor of revenue for Pennsylvania and customs collector for Philadelphia.  He died 1 October 1807, his 61st birthday in Gray's Ferry, Pennsylvania.  A true patriot and great American.   A Virginia State Color Guard with members from the Colonel James Wood II, Sgt Maj John Champe, Fairfax Resolves, Culpeper Minutemen, George Mason, General Daniel Morgan, Colonel William Grayson and Fort Harrison Chapters of the SAR presented and posted the colors.  The DAR had members from the Narrow Passage, Lane's Mill and Montpelier Chapters.  Members of both organizations presented wreaths to honor Muhlenberg as well as one from the Order of Founders and Patriots of America and the Black Robed Regiment.  Participants included Brian Bayliss, Bryan Buck, Ken Bonner, Dale Carpenter, Paul Christensen, Dave Cook, Dale Corey, Forrest Crain, Doug Hall, Tom Hamill, Larry Johnson, Pat Kelly, Erick Moore, Patrick Moore, Ken Morris, Brett Osborn, Paul Parish, Dennis Parmerter, Allan Phillips, Will Reynolds, Marc Robinson, Bill Schwetke, Barry Schwoerer, Jim Simmons, Mike St Jacques, Richard Tyler, Steve Van Deusen and Mike Weyler from the SAR. 
First photo is the Virginia State Color Guard at Present Arms.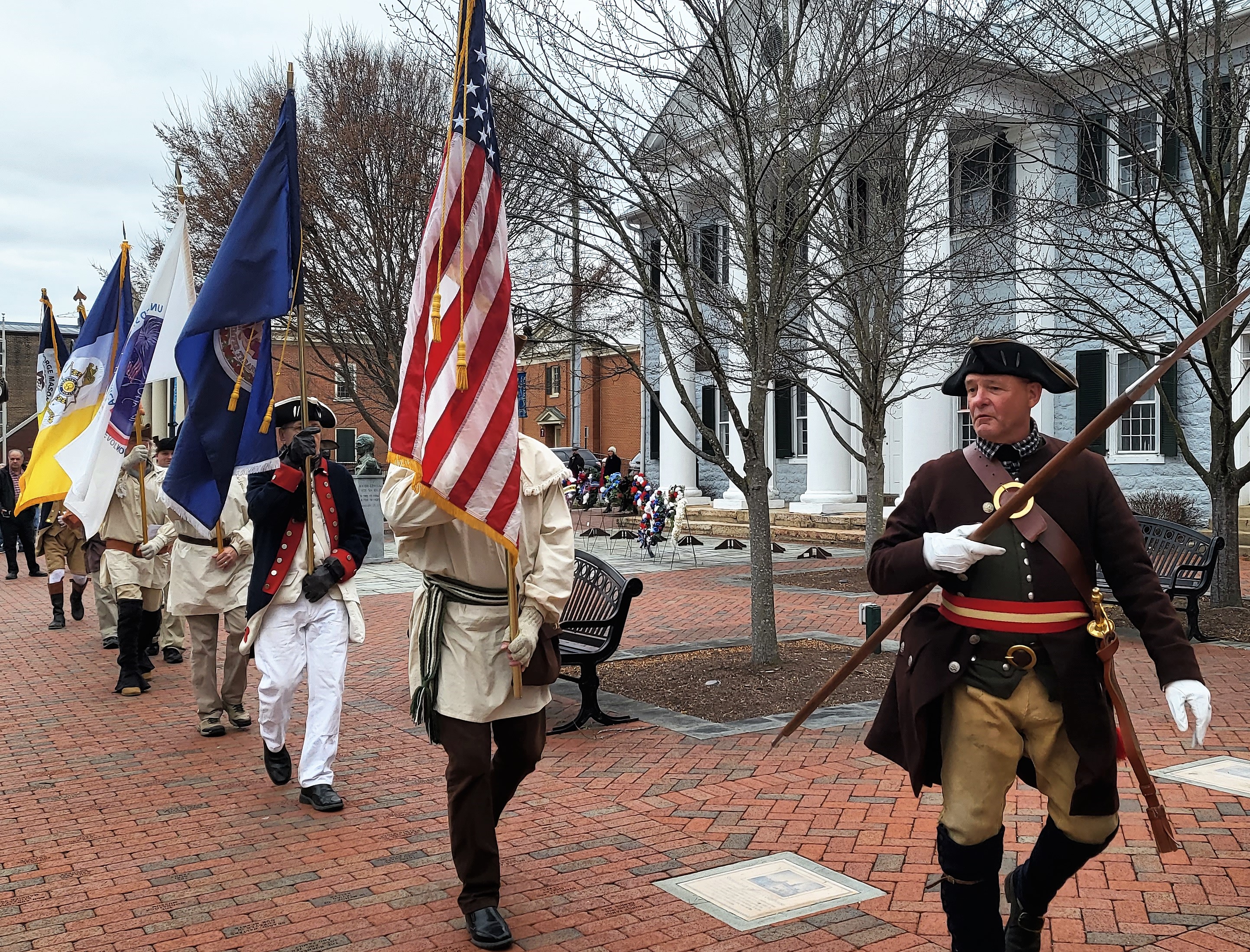 Second photo is the Color Guard Marching into position. 
Third photo is of the participants. l. to r. Patrick Moore, Dale Carpenter, Ken Bonne, Brett Osborn, Erick Moore, Paul Christensen, Erick Moore, Jim Simmons, Marc Robinson, Eric Robinson, Allan Phillips, Dale Corey, Paul Parish, Bill Schwetke, Mike St Jacques, Pat Kelly, Dave Cook, Will Reynolds, Richard Tyler and Bryan Bayliss.  (Photos courtesy of Anita Bonner.)
Share this post: