George Washington Chapter Conducts Grave Marking Ceremony for Phillip Richard Fendall
On February 18, the George Washington Chapter honored the memory of Patriot Phillip Richard Fendall by dedicating a memorial marker in the garden of his home, the Lee-Fendall House in Old Town Alexandria.  The actual location of Fendall's grave is unknown but believed to be in either of two places in Alexandria.  The Commonwealth of Virginia Department of Historic Resources graciously funded the marker as well. Patriot Fendall was born in Charles County, Maryland in 1734 and was related to the famed Lee family of Virginia.  During the Revolution he served in public service positions including Clerk of Charles County, election to the Convention from Charles County, and serving on the Committee of Observation for Charles County.  In 1784, he bought land from Revolutionary hero, and his cousin, Light Horse Harry Lee and constructed his home on Oronoco Street.  He was a business partner of George Washington in the creation of the Potomac Canal Company and Washington was a visitor to the house.  Due to this close connection, it was decided to dedicate the monument on Washington's birthday weekend.
In addition to SAR participants, the Rev. Thomas Costa served as Chaplain and Dina Farouny-Webber, Program Manager for the Lee Fendall House Museum and Garden talked on the history of the house and Patriot Fendall.    VASSAR Second Vice President Michael Weyler officially dedicated the marker.  SAR Chapters that presented wreaths included the Virginia Society, George Washington, Col. James Wood II, Sgt. Maj. John Champe, Col William Grayson, George Mason, and Fairfax Resolves.  The Virginia DAR District V Director Nancy Hill presented a wreath along with the Anna Maria Fitzhugh and Kate Waller Barrett chapters.  The VASSAR Color Guard added dignity to the ceremony by posting colors and standing guard during the ceremony.
Attached photos (courtesy of Thomas Roth):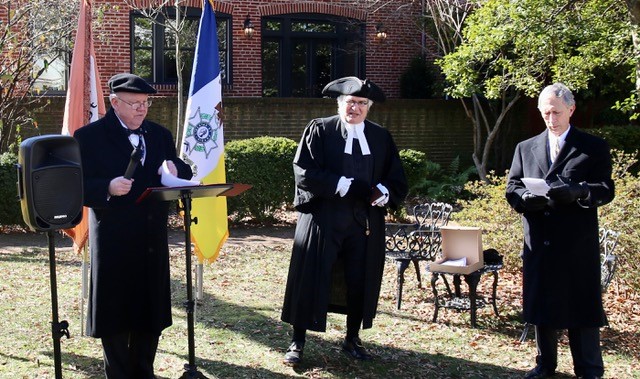 Grave marking Chair Paul Walden, Rev. Costa and Chapter President Rand Pixa start the ceremony.
VASSAR 2nd VP Michael Weyler dedicates the marker.
Color Guard in formation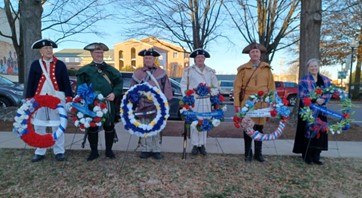 Wreaths in place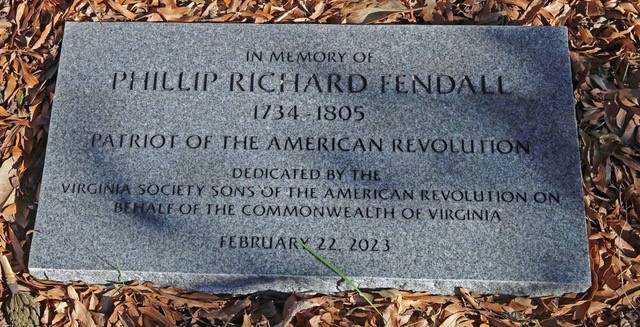 Phillip Richard Fendall marker in garden
Share this post: